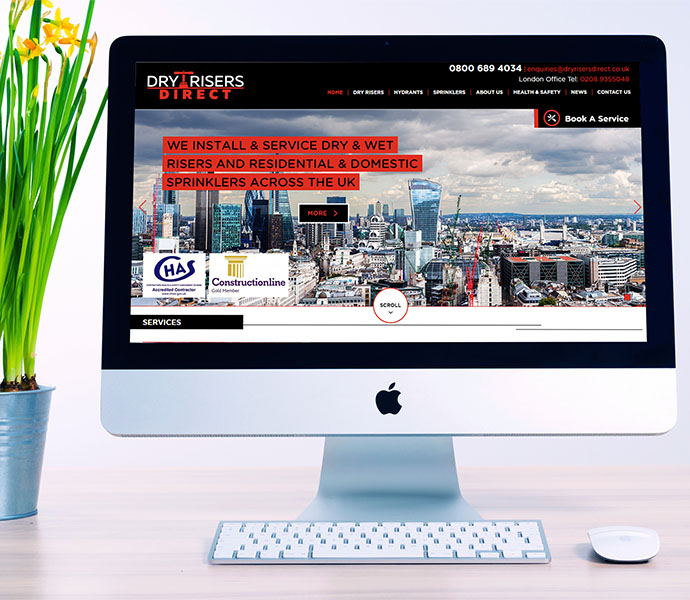 Digital Marketing for Start Ups – Dry Risers Direct Group
We get approached by lots of new business start up's and as business people ourselves, we have plenty of experience in helping and advising businesses at this stage. In general we are approached to design and build a website, but there is a huge amount more we can do given the opportunity. When Adrian was setting up Dry Risers Direct, he was open to discussing a full Digital Marketing plan to get his business busy. Digital Marketing for Start Ups needs to be low cost and high impact to ensure any investment pays back very quickly. 
Business Success!
Adrian set up Dry Risers Direct towards the end of 2015. He had previously been running a business installing fire sprinklers but was being asked about Dry Risers more and more often, so he took the plunge and set up on his own! As Adrian knew that a great website was vital to his future success he tasked us with the design and build of www.dryrisersdirect.co.uk . As the aim of the website was to drive inbound enquiries we designed the structure and each page to get the most from Google search. The website was designed to make changes easy and included News and Case Studies, and Testimonials sections, so that new content that would grab new enquiries from Google, could be added.
Digital Marketing
Adrian had already had some early success through LinkedIn and when the website went live he was able to post News articles and new projects on LinkedIn that specifically encouraged readers to click through to the website and enquire about his services. He also began posting short sharp updates about each project on Twitter and again linked these posts to the new website to encourage enquiries.
Pay Per Click
Adrian had also set up some simple Pay Per Click campaigns on both Google and Bing that had brought in still more business. Initially he kept his budget low but as sales increased he could quickly see that generally, the more he spent the busier he got! As qualified Google Partners he asked us to get involved once the spend with Google reached a few hundred pounds per month. Alison our resident Search Engine Optimisation (SEO) and Pay Per Click (PPC) expert was then engaged with the specific aims of maximising return from the Google spend and making sure that the website got plenty of free (organic) traffic. The result of this has been to constantly get more and more traffic for Adrian's spend. 
Search Engine Optimisation
Due to the great work Alison does alongside great content creation from Adrian and the team, the website and traffic continues to grow currently gaining in excess of 24,000 visitors per year. We regularly meet with Adrian and the team to agree future Digital Marketing plans adding new features and functions to his website along the way. Dry Risers Direct is now a Multi Million pound operation who's main source of incoming leads is the website.
The Future
As a natural Entrepreneur, Adrian has since set up several New Businesses;
As Adrian wanted a uniformity of style and the same set of functions, we were able to copy the original website and deliver new ones for a fraction of the cost of a bespoke design and build. We continue to work on all these websites for Adrian, optimising them for search and setting up efficient Pay Per Click campaigns. Already these businesses are growing quickly and look to be replicating the huge success of Dry Risers Direct.
If you would like to find out more why not get in touch.
0800 171 2230
info@global-river.co.uk
Drop us a note