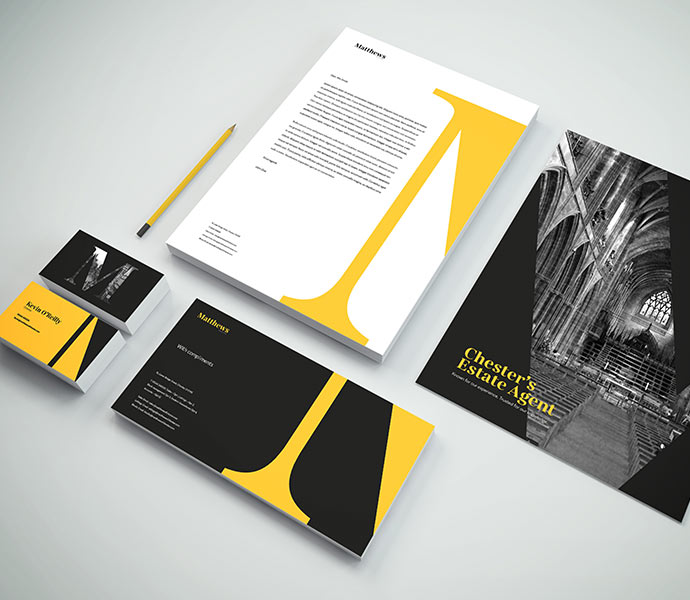 Brand Strategy for Matthews of Chester
History
We have been working with Matthews of Chester for over 5 years, building a website for them in conjunction with a leading Chester design agency back in 2015. As with all Estate Agency Websites we build in WordPress and link to their Property Management system, originally CFP. We continued to work with Matthews to optimise their website for Google search and helped on ad-hoc development projects. We had however, long been keen to help them more with their marketing so recommended Clare Moorhouse of Moorhouse Digital to work with us on a more structured Marketing and content plan. Clare has a prestigious property background so immediately fit in to the virtual team and we began delivering a structured content and SEO plan for Matthews.
Key messaging Workshops
Towards the end of 2019 our discussions with Matthews turned to branding. Their messaging and branding had become confused over time. What did Matthews stand for? Where did they fit in the local market? What made their business so special? We felt that if we could answer these questions and distil them into messages to the market, it would move their marketing forward hugely. Clare already had a great understanding of the business but suggested running a number of Branding Workshops.
Clare organised a workshop, inviting all of the senior team at Matthews. We ran a number of exercises with the team designed to brainstorm what Matthews offer to the market. Clare's aim here was to document all of the outcomes and distil these down into the most valuable and powerful differentiators Matthews deliver every day.  
We are Chester
Intimate local knowledge. Infinite property experience.
Chester's Estate Agent
Known for our experience. Trusted for our knowledge.
We are Chester
Known for our experience. Trusted for our knowledge.
We've been matching people and property in Chester for over 30 years.
We value property for those who value experience.
We know Chester.
A proven combination of tradition and expertise practiced for over 30 years.
Made in Chester in 1986
Designed for those who value experience.
YOUR property in OUR safe hands.
The Matthews team thoroughly enjoyed the experienced and were thrilled with the results. A set of messages that truly encapsulated what the Matthews of Chester business was all about.
Branding
With a full Branding and Messaging strategy document, our Design Director was able to design a number brand ideas that reflected all of the messaging. Matthews chose their brand ideas and the work began to create a new website and all marketing collateral. We continue our work with Matthews growing their website traffic and solidifying their position as Chester's premium estate agency.
If you would like to find out more why not get in touch.
0800 171 2230
info@global-river.co.uk
Drop us a note