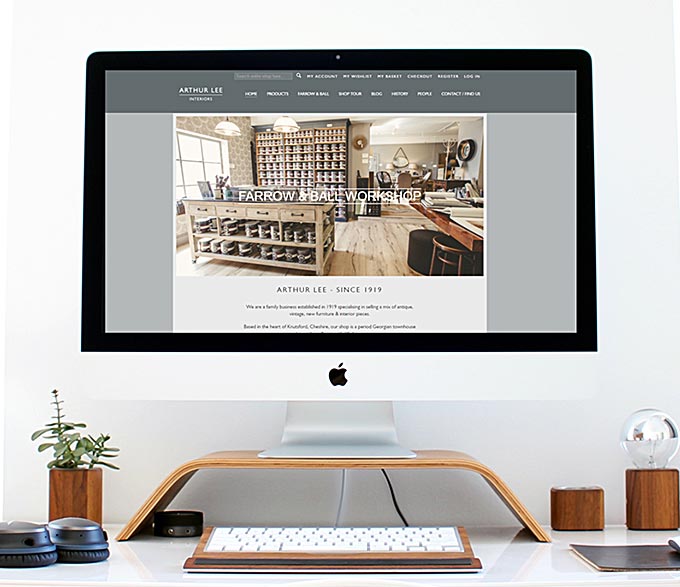 Arthur Lee Magento ecommerce website
A Magento ecommerce website that links to Arthur Lee's Till and Epos system to ensure that all stock sold in their 18 showroom furniture store and on their website is registered centrally.
When Arthur Lee commissioned Global River to design and build their new website we discussed both a WordPress website to showcase their amazing furniture store near Knutsford and a full ecommerce website to sell furniture, paint and wallpaper online. Vicky and Helen, the two dynamic sisters who have recently taken the reigns of the business chose the Magento solution. They were keen to move away from the partnership they had with Antiques Atlas, whereby their products were uploaded to a third party website to be marketed and sold. They also needed a central stock system so that all online sales updated their central stock system automatically. This would avoid unique furniture pieces from being sold twice and ensure the accuracy of the stock levels of fast moving products such as Farrow and Ball Paint.
The Solution
This stunning website has been built not only to make navigation simple but to make the site easy for Vicky to manage. As a talented photographer, Vicky uploads all of the furniture herself which not only means that the website always looks amazing but she is in total control of her sales. The website has been an amazing success with Google swiftly gaining a top raking for Farrow and Ball paints throughout the North of England and attracting an extra 15% of search and enquiries by ranking top for specific furniture searches in London.
If you would like to find out more why not get in touch.
0800 171 2230
info@global-river.co.uk
Drop us a note