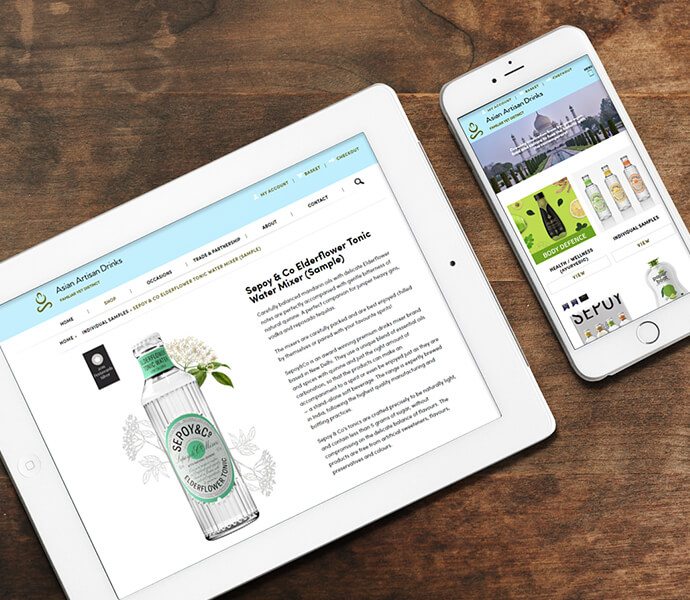 Asian Artisan Drinks Branding & Website
Asian Artisan Drinks is a new venture in the UK importing and supplying a unique range of artisan beverages originating from South Asia (India, Pakistan, Bangladesh, Nepal & Sri Lanka). Global River were delighted to be approached to design and develop their website.
Asian Artisan Drinks was born out of a desire to bring some unique South Asian heritage such as the Paper Boats lightly spiced fruit drinks or Auric's selection of ayurvedic health & wellness drinks to the UK. South Asian food is popular in the UK but this popularity isn't reciprocated with a similar interest in beverages. Asian Artisan Drinks, aims to redress this imbalance. 
It is still early days for the company but having seen and sampled the range we think they are going to be big and are proud to be involved right at the start of this venture.
The Brief
Asian Artisan Drinks needed a full ecommerce website that was easy to manage. As a new start up working to a budget was important and so was making an impact and instilling confidence. The site need to inspire new potential customers and be easy to navigate to ensure visitors discover and purchase this unique new range of drinks. The site also needed to be able to grow with the business and accommodate more product ranges in the future as the business grows. 
The Solution
Global River has delivered a full ecommerce website and technical support to enable the business owner to manage the online presence of the company. The site integrates with stock management solution Mintsoft and accountancy software Quickbooks to enable efficient business management. Getting found in search is also crucial and we are providing ongoing search marketing support as this can be a complex long haul for new businesses.  All product information feeds directly into Google Merchant Centre enabling the products to be appear in Google shop and Google shopping campaigns.
We are looking forward to supporting the company with a range of digital marketing and search marketing services as they become established and grow.
If you would like to find out more why not get in touch.
0800 171 2230
info@global-river.co.uk
Drop us a note