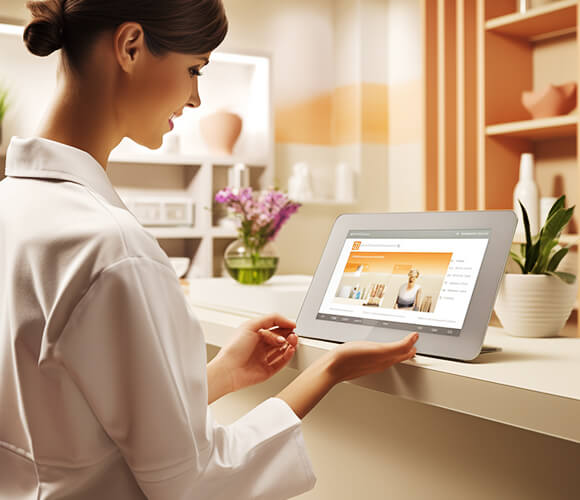 What is the best booking system for your beauty clinic?
What is the best booking system for your beauty clinic?
In today's fast-paced world, time is precious, especially within the beauty industry and anything to make life easier or more organised is extremely effective. The advent of sophisticated booking systems has revolutionised how a beauty clinic operates, streamlining appointment scheduling and enhancing the overall customer experience. There are several reasons as to why you should consider online booking systems for your business…
They allow for 24/7 accessibility as clients can schedule appointments at any time, so it's more convenient.

It reduces phone traffic for the staff giving them more focus on the treatments 

Effectively manages the appointments making sure there aren't any double bookings 

Minimises no-shows due to notifications and reminders 

Many allow clients to pay in advance or pay for part of their treatment as a deposit making for smoother transactions. 

They have scalability and accommodate for growth of the business. 
So now for choosing the best booking system for your beauty clinic
Below are several online booking systems that each have their own benefits and features… 
Rated number 1 for ease of use and set-up

uses calendar and scheduling

 two way texting

 express booking

staff and client management

memberships and packages
Is the top-rated destination for beauty and wellness

world's only subscription-free

manages appointments, staff members and locations. 

Unlimited client and email notifications

Optional paid features to boost promotion
Designed for small and midsize businesses 

Appointment bookings 

Inventory management and reporting 

Holds time slots for in-progress online appointments 

Consultation forms and online consultation 
All-in-one software solution for clinics, spas and salons 

Appointment scheduling

Digital client records

Customisable consent forms 

 Automated pre/aftercare emails 

Deposit and no-show protection 
Built by a leading aesthetics doctor 

Bookings, reminders, consent, documentation, prescriptions, aftercare photographs and payments can be managed.

Waiting list for cancellation appointments 

Reminders to rebook

Easy click prescriptions
Online booking with calendar 

Livestream classes and consultations

Invoices and payroll

Customer tracking 

Forms for surveys/quizzes.
Simplifies your schedule

Maximises your Point of Sale 

Builds a relationship with customers 

Staff management 

Allows you to sell products that complement your services 
Booking and scheduling 

Marketing 

One system for payments wherever, whenever.

Flexible tools for every type of business 

Empower your staff to manage their schedules
Overall, choosing the right booking system for a beauty clinic is a critical decision that can greatly impact the success and efficiency of the business. After carefully considering various options and factors, it becomes clear that there is no one-size-fits-all solution. The choice of booking system should be based on the specific needs and priorities of the beauty clinic, as well as its budget constraints. Whichever you decide, Global River is here to help we have a vast amount of experience and can advise you on every aspect of your marketing needs to really get those bookings flowing. Get in touch today.