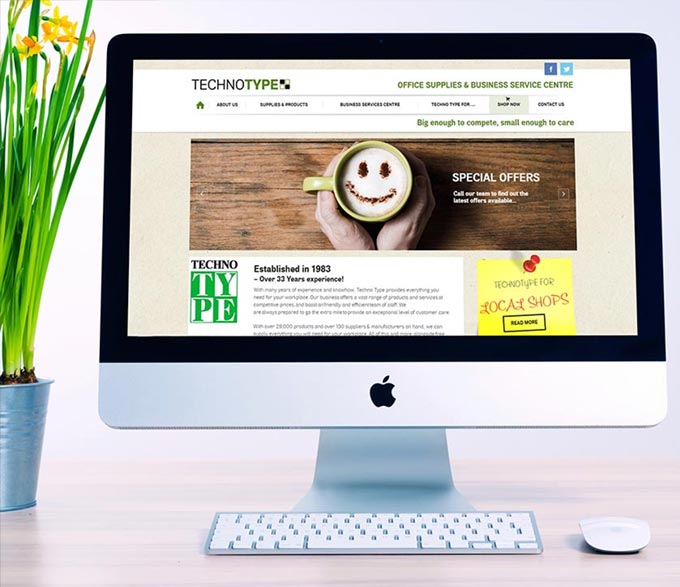 Techno Type's new website
We were delighted to be asked some months ago to design and build Techno Type's new website. Technotype have been supplying Stationery and Facilities Management products and services in Knutsford, Cheshire for over 20 years.
We had already helped Techno Type with their email marketing and could see great opportunities to help them achieve their growth targets by ensuring they get their fair share of enquiries from people looking for their services online. Our SEO knowledge told us that by producing a website that gave them pages for all of their services as well as pages for all of their target customer types,  would allow them to optimise for a huge number of key phrases. Not only that but we delivered a website that would allow them to add new services quickly and easily and optimise it for Google search themselves.
Techno Type's business
During the design process we were keen to reflect Techno Type's key selling points in look, feel and content. What makes this a special business is their experienced and knowledgeable team, personal service and huge product range. This amazing combination means that they can deliver products next day, return quickly and easily and most importantly in an age of call centres, be on hand to help whenever needed. As part of a large buying group they can deliver all of this at great prices. Don't take our work for it see for yourself!
Discount for Global River customers
We regularly recommend customers to Technotype and to help this process, Technotype are offering 20% off the first order for all new customers who get in touch and reference Global River. SO what are you waiting for, take a look at their new website and place an order!