JanusTech and Wilmslow Cookery School New Website Launches
Two great new WordPress websites have recenty been launched by the Global River web design team. Janustech sell large print presses to businesses all accross the globe. They were looking for a website that they could upload details of each press available for sale, as well as the numerous case studies of the large and succesful installations they carry out each year. We are also creating an email template for them to be able to publicise presses for sale to their considerable customer and prospect base through a professional HTML email template. Steve Cathie the owner of Janustech was also kind enough to give us a fantastic testimonial!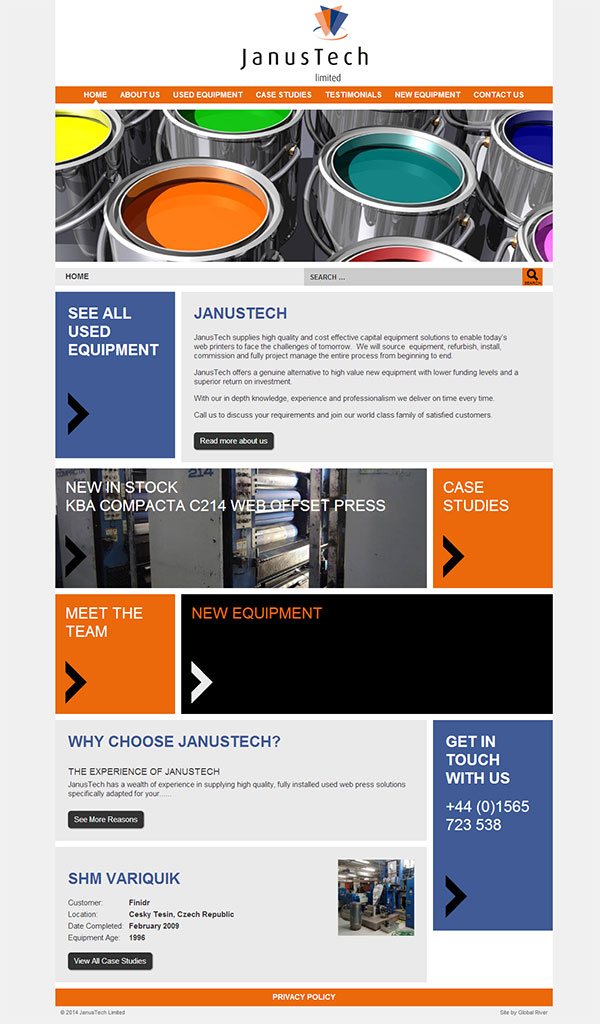 We have been as excited as the rest of Cheshire to be working in partnership with DesignCoUk on a new website for Wilmslow Cookery School. Already a success before it was launched by celebrity chef Mark Sargeant in February. Sarah Bridge the founder of Wilmslow Cookery School needed a website that she could manage herself, uploading new cookery courses along with dates and joining instructions. Website users are sent designed email confirmations and can also order vouchers on the website. We are certain that the Cookery School will be a huge success and it was great to work with Sarah on the project. To read Sarah's kind words see our testimonials page.