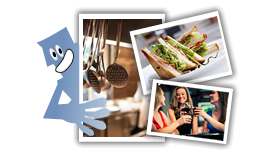 Increase your covers is 2012
With Christmas behind us and trading conditions set to be challenging in the coming year, those businesses set up to market themselves in an effective low cost way will thrive. The large chains such as Pizza Express have reaped the rewards of this, and experienced an increase in profits for the 2nd year in succession (7% 2009/2010 4.4% 2010/2011). Their secret is simple; a huge permission base of email addresses and a constant stream of offers to get "bums on seats". This system helps them fill restaurants in quiet times and encourages spending. It puts them at the top of our list of possible venues for a meal by offering a constantly changing range of special offers.
Setting your business up to replicate this need not be difficult. Your online toolkit is as follows:
A website you can add content to
A bulk email solution set up with a template
Facebook, twitter, Linked in accounts
With the above tools in place all you need to do is start collecting email addresses from your customer base. The rest is the free. You can send out as much content as you like:
Events
Menus
Special Offers
All publicised for free!
Not only will your website begin to grow and attract the attention of Google and the other search engines but you will soon build up a base of customers who can always be persuaded to call in if the deal or menu is right. Global River can help set this all up for less than you may think and get 2012 off to a flying start.
Call us on 0800 171 2230 or CONTACT US for a free consultation NOW!