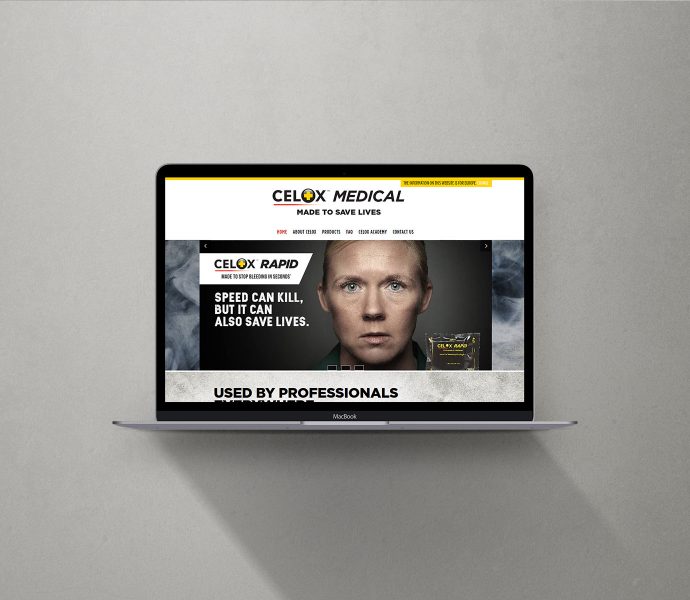 Top of google abroad
A UK company selling their products globally have commissioned a website that will display different content for each of their different global territories. A specialised Global Search Engine Optimisation (SEO) campaign has ensured that the website tops Google search across the Globe.
Medtrade, based in Crewe, Cheshire, manufacture a range of medical products that support emergency services all over the world. The flagship product Celox, stops bleeding in trauma cases and is used by the armed forces, emergency services and the veterinarian industry. Mike, our technical director build the website for Celox some 7 years ago and as such it was due for an update.
SEO
Celox approached Global River for SEO because their traffic from organic search was dropping due to technical issues and changes in the market. (previously war in the Ukraine had brought them publicity and web traffic. In addition, the site had been hacked which had damaged its standing with search engines.) The site had seen a 15.4% drop in organic search traffic from Q1-Q2 2015. We undertook an 11 month program of SEO from July 15 – May 16. The focus was on international SEO including markup to target content at the appropriate geographies thus improving not just rankings but also the user experience.
Comparing the traffic from before and after the SEO campaign (Q2 2015-Q2 2016) we were pleased to report a 41% increase in organic search traffic.
Our SEO is ethical and aimed at improving the ranking of a site sustainably. It often takes time to realise the benefit of the campaign, however the benefit continues way beyond the end of the campaign.  After the program of SEO at Celox was complete, the rankings and organic traffic have continued to rise. Between Q2 2016 and Q1 2017 organic traffic increased by a further 19.5%.
This means that today the site enjoys over 68% more search traffic and an improved user experience compared to two years ago prior to SEO.
New Websites
We have now partnered with Medtrade's graphic design partner DesigncoUk to create a brand new website that will take their Search traffic to new heights. The new website uses IP address technology to recognise where each visitor is located and shows them a different website/page depending on where they are. This is vital for Medtrade not only in ensuring they top Google in every territory, but makes sure they comply with the strict compliance they have to adhere to which differs in each territory. We have also engaged with Gina and the Omnistat team to design, build and grow the Omnistat web presence, growing their traffic specifically in the US. The site has been a huge success and we continue to develop it with a Sales Rep portal to help keep their new US wide team engaged!
If you would like to find out more why not get in touch.
0800 171 2230
info@global-river.co.uk
Drop us a note